Vladimir Putin delivered a major speech to the Russian parliament on Tuesday, in an effort to rouse more support for the war in Ukraine.
During the one hour and 45 minute speech to the joint houses of the Russian parliament, he redeployed many of the lines of attack he has used in the past, including attacking the West.
The annual speech was originally meant to go ahead in December, but it was delayed as Russia had just faced a series of military setbacks.
Today, just three days before the official one-year anniversary since Putin ordered the invasion of Ukraine, the Russian president sidelined these failures.
Throughout the whole speech, the main bit of new information was that he planned to suspend Russia's participation in the New Start nuclear treaty in the US.
Here's what you need to know.
How does Putin think the war is going?
Putin admitted that he was giving the speech "during a complicated and frontier time for our country during a time of drastic changes in our world".
But, he is still calling his invasion of Ukraine a "special operation" and alleging that there is a Nazi threat within the "Kyiv regime" making nuclear threats.
He claimed Ukrainian civilians had been waiting for Russia to help, and announced that Moscow had no plans to pull out of the conflict.
What does he think of the West?
Putin revived an old line claiming that the West had provoked the current conflict by making Ukraine anti-Russian.
The Russian president claimed that the West had somehow "let the genie out of the bottle" through the war and was responsible for the current battle.
The West's commitment to peace is a "fraud" and "cruel lie", he said – and now it has trillions of dollars at stake through the war, after sending Ukraine investment and weaponry to help it fight off the Russian armed forces.
The Russian president continued: "We were doing everything possible to solve this problem peacefully, negotiating a peaceful way out of this difficult conflict, but behind our backs a very different scenario was being prepared.
"They [the West] were just playing for time, closing their eyes to political assassinations, mistreatment of believers."
Both Ukraine and the West have denied all of these claims, and say the Nato expansion is not a justification for Putin's war.
The Russian president also said: "They intend to transform a local conflict into a phase of global confrontation. This is exactly how we understand it all and we will react accordingly, because in this case we are talking about the existence of our country."
He has always maintained that if Ukraine's allies got too close to the war effort, he would not hesitate to attack.
A move towards Asia?
Putin said Russia was going to turn away from the "wolfish" habits of the West and towards Asia instead.
China's top diplomat Wang Yi will be in Moscow on Tuesday and may meet with Putin – prompting concerns that the country might be thinking about offering weapons to Russia.
The US has expressed worries that Beijing could supply Moscow with weapons, thus escalating the war and putting Ukraine and Nato allies on one side, with China and Russia on the other.
China has notably never condemned Russia's actions in Ukraine.
But, in response to US worries, China's foreign ministry spokesman Wang Wenbin said: "We do not accept the United States' finger-pointing on China-Russia relations, let alone coercion and pressure."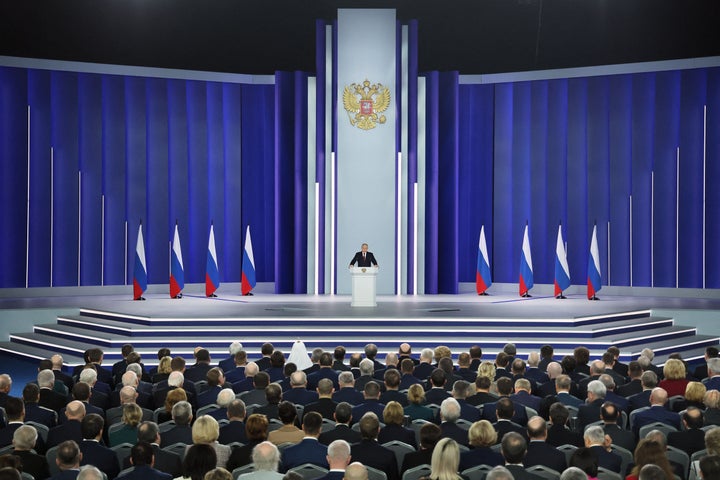 What did he say about Russia?
In an effort to shore up domestic support, Putin claimed that defeating Russia was impossible and that it would never give in to Western attempts to divide society through the war.
Polling by the Lavada Centre suggest 75% of Russians support the war, with just 19% being against it and 6% being unsure.
Another 75% think Russia will be victorious, but these figures have been criticised by analysts for potentially not being accurate.
He said there would be a special fund for the families of victims.
The Russian president lashed out at the sanctions from the West too, suggesting that Russia was doing just fine.
He said: "The Russian economy and the management turned out to be much stronger than they thought."
"We must not repeat our mistakes. We must not destroy our economy," and instead claimed the share of Russian roubles in international transactions have "doubled".
He also said it was a "record harvest" year – but Ukrainian advisers said that it was stolen Ukrainian grain, transported via freight trains.
Putin also addressed the Ukrainian regions which were subject to sham referendums and annexations last September.
He said: "You yourself determined your future. You made your choice despite the threats of terror of the Nazis. Next to you there were military actions taking place, and you made the choice to be together with Russia. To be together with your motherland."
None of these four regions – Luhansk, Donetsk, Zaporzhzhia and Kherson – have fallen completely to Russia.
What is happening with the nuclear power?
Putin announced that he was suspending Russia's role in the New Start nuclear treaty with the US.
It was signed in Prague in 2010, came into force in 2011, and was extended in 2021 for five more years.
It is meant to stop how many strategic nuclear warheads that the US and Russia can deploy, and the deployment of land- and submarine-based missiles and bombers to deliver them.
Russia has the largest stockpile of nuclear weapons in the world – close to 6,000 warheads, according to Putin.
While this is not the same as leaving the treaty, it still caused worry among world leaders.
However, he added that Russia would only carry out new nuclear tests if the US did it.
"Of course, we will not be the first to do this. But if the United States tests, then we will. No one must be under any dangerous illusions that global strategic parity can be destroyed."
Between the US and Russia, they have nearly 90% of the world's nuclear warheads.
Nato's secretary-general Jens Stoltenberg said that Russia's decision makes the world "more dangerous", and it was "just another example" of Moscow shift away from the international rules-based order.
It's worth noting that Joe Biden was also delivering a speech just hours after Putin's, in Warsaw, Poland, and had made a surprise trip to Kyiv this week (which appears to have buoyed Ukrainians) the day before the Russian president took to the stage.